---
הכתבה הזו פתוחה לציבור ללא תשלום - רק בזכות תומכות ותומכי המקום.
תמכו עכשיו באופן קבוע כדי שנוכל להביא עיתונות איכותית וחופשית לכל
---
An Israeli air force report released this week on the non-combat death of one of its soldiers has not brought her family any closer to the closure it has sought for almost a year. The IAF report on the death of Dimona's Toveet Radcliffe concluded that no other person was party to her death, with the implication being that Radcliffe must have taken her own life – a conclusion that her family and friends refuse to accept.
Radcliffe's untimely death occurred while she was serving in a non-frontline role, operating Patriot missiles at the Palmachim Air Force Base on Israel's Mediterranean coast, about half an hour south of Tel Aviv. As we reported here in the days that followed her death, Radcliffe was found dead with gunshot wounds in her head at midnight, between February 21 and 22.
According to the IDF report, Radcliffe's body was found with no signs of life at the end of a four-hour shift in a guard booth at an entrance to the base. She was found seated on a chair, with the M-16 rifle assigned to her suspended from her neck, with the trigger in the "semi-automatic" position. The report states that one bullet was missing from the rifle's cartridge, and that this bullet killed her, piercing her skull and lodging itself in the door of the booth.
The report also states that Radcliffe's body showed no evidence of physical or sexual trauma, except for a number of bruises that the autopsy pathologist did not believe to be recent. As a result, it concluded: "Examination of the aggregate of evidence leads to the conclusion that there is no documented proof of the involvement of others in the death of the Deceased."
Toveet's mother Khydijah told the Hottest Place In Hell that she does not accept the results of the army investigation and that she has requested that the IDF provided her with not only its conclusions, but all of the materials from their investigation into Toveet's death. While Khydijah is eligible to receive copies of these materials, the army has stated that they will only be provided for her in the original Hebrew, which she is not highly skilled at reading.
Khadijah now has two months to officially object to the conclusions of the Military Advocate General and ask the Government Attorney General to re-open the case.
A reason to take her own life
The idea that Toveet would commit suicide seems to fly in the face of available evidence.
The report states that "the superiors and comrades of the Deceased did not reveal that they knew of any mental difficulties on [Toveet's] part. The investigation did not reveal that the Deceased had complained to any medical or mental health elements any difficulties of this kind".
Furthermore, the report notes that "the statements taken during the investigation did not reveal any adverse events during the weekend in which the tragic event occurred, and the statement of Corporal Linda revealed that the Deceased had made plans for the next few weeks during the weekend."
These statements are in line with the sentiments of Toveet's family and close friends, who told The Hottest Place In Hell that they knew Toveet as a happy person, and that they could not imagine any reason that she would have wanted to take her own life.
"Everybody loved her. Everyone that she met, she always touched their soul and their spirit. She was very happy," Toveet's mother Khadijah told The Hottest Place In Hell. "Of course all teenagers go through their hormonal depressions, but she was very strong-spirited, she had a lot of plans and she loved living life. She lived life to the fullest and she had a lot of plans of things that she wanted to do."
The disbelief of family and friends does not amount to credible evidence, however, that Toveet could not have committed suicide. According to Israeli investigative journalist Eishton, who has investigated hundreds of IDF soldier deaths ruled suicides, almost all families of the fallen refuse to believe that suicide could be the cause of death of their loved ones.
Another sore point for Toveet's family and friends is what they view as inconsistencies in the army's version of events. "The thing that hurts me more is that I don't know what happened to her, that hurts more," Khadijah said.
Hours after Toveet died, representatives of the army came to the family home in Dimona to break the tragic news. Khydijah recalls that they said her daughter had died from gunshot wounds to the head and was found in her bed on the Palmachim air force base. Khydijah recalled that dreadful day:
"I asked how many people died.  I thought that some terrorists went up there and started shooting people. Or, I thought that she had died in a bus blow up, a bus crash or something. They said that no, she was on the base; she was on her own. They said that she had died by herself. I said, 'By herself? How?' They said she was in her room. She wouldn't tell me how at first, she said that she was in her room. We found her dead in her room by herself. I asked if it was food poisoning… She said no, that she was shot. I asked if she was shot, how? What do you mean?"
Later, however, representatives of the army returned to the family home and told Toveet's mother that Toveet's body was not found in her bed, but rather in a small guard booth on the base. "When they came a few days later, that's when they said she was found her on patrol," Khydijah recalls.
Toveet's mother Khydijah also remembers that the army representatives told her that Toveet died from two gunshot wounds to the head. The IDF report delivered to the family this week states that Toveet died from just one gunshot wound to the head.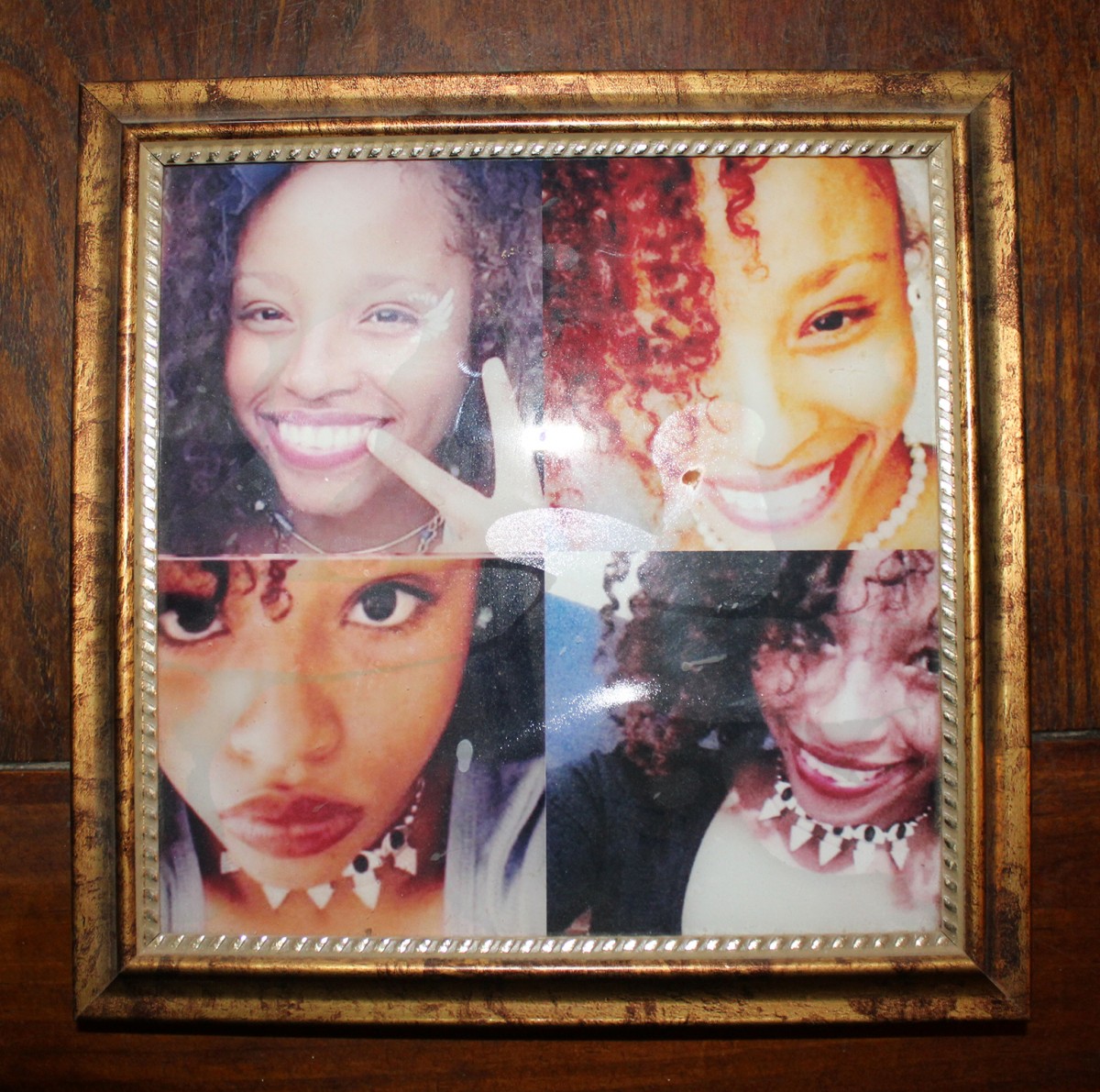 Photos of Toveet at the Radcliffe residence
How Toveet could have shot herself
Another troubling element of the IDF's version of events is the method by which Toveet is inferred to have shot herself. The IDF pathologist posit a way in which this may have happened: "The fact that more blood splashes were found on the left hand than on the right indicate that the left hand was closer to the entry gunshot wound…and it is more likely that the left hand held the barrel."
The pathology report does note that the chemical byproducts of gunfire were found on Toveet's head, stating that "the surface of the frontal bone and the frontal lobe of the brain has blackish resides that settle with other gunshot byproducts, primarily propellant powder particles and soot". However, the report does not note the existence of similar chemical byproducts on either of Toveet's hands.
If Toveet's "hand held the barrel" up to her forehead, as the pathologist posits, powder residue might have been found on one of her hands. The pathologist does not make mention of any residue on either her left hand or her right.
Furthermore, the report states that the bullet that killed Radcliffe entered her skull at point blank range at the top of her forehead, and that it exited her skull "in the occipital region", which is located at the bottom of the back of the skull. The bullet then lodged itself "in the lower part of the guard post door", according to the report.
The pathologist report does not explain how Toveet, holding her assigned M-16 rifle, could have fired a bullet through the top of her forehead, out the back of her skull, and into the bottom of the door behind her. It only states that "the firing angle cannot be determined, only the trajectory of the bullet channel inside the body… this question must be referred to the scene expert".
Khydijah, Toveets mother
If a scene expert investigated Toveet's death for the IDF, his or her report was not included in the conclusions submitted to Toveet's family. However, simple logic could imply that since the bullet followed a downward trajectory through Toveet's body, the butt of the rifle that shot the bullet would have had to be at least as high as the barrel of the rifle – if not higher.
Even if Toveet did intend to end her own life, it is unclear why she would have chosen to do so in the manner suggested by the IDF. If Toveet had wanted to commit suicide with her rifle, she could have put the barrel of the gun into her mouth or under her chin, which would have allowed her to reach the gun trigger with ease.
Member of African Hebrew Israelite community
Any family of a fallen soldier disputing the official story of how their child died  would have a difficult time confronting an institution as powerful and opaque as the Israel Defense Forces. But the Radcliffe family finds itself in an especially compromising position vis-a-vis the army, because unlike almost all IDF soldiers, Toveet – although she was born in Israel and spent almost her entire life here – was not a citizen.
Decades ago, Toveet's parents moved to Israel in order to join the African Hebrew Israelites, an Afro-centric spiritual community of several thousand souls that bases their practice on the Old Testament, but differs from Orthodox Judaism. From the 1970's onwards, successive Israeli governments strove to deport the members of the community.
In 2003 the community members were granted permanent residency, but the state conditioned each African Hebrew's citizenship on their own individual children serving in the IDF. Today, most African Hebrew youth choose to enlist in the Israeli army. But unlike their Jewish counterparts, they do so knowing that unless they complete their military service, their aging parents will never receive a full set of rights in the country they have lived in for their entire adult lives.
Toveet's mother Khydijah worries that if she presses the army, the state will not look kindly upon her, and may withhold rights from her three surviving children. A single mother, Khydijah raises two sons and a daughter on her disability check and does not have the financial resources to contract a lawyer who could advocate on her own behalf.
First Hebrew to die as an Israeli soldier
Toveet was the first African Hebrew to have died while serving in the Israeli army, and her death has sent shockwaves through the tight-knit community. Immediately after Toveet's death, community leaders issued a press release demanding speedy answers from the army, and visited the Radcliffe home this week, vowing to support Khadijah in her struggle to learn the details of how her daughter really died.
Over the course of the past year, the community has witnessed the death of many of its other members, including the man who served as the spiritual leader of the African Hebrew Israelites for four decades, Ben Ammi Ben Israel. In 2015, community leaders have had their hands full trying to plot out a collective future for the African Hebrews, sans its messiah figure.
Toveet loved life, says her mother Khydijah
"She brought in stray cats, puppies, everything in the house, snuck them in the house. I've had so many rabbits running around in here, all kinds of animals. And when I would tell her that they can't stay here because it's too much, or it's too many animals, she would gather all the animals up and she would look up a kibbutz on the internet, call and ask if they could take care of all of the animals, and she would take them up there, her and my [other] daughter. That's how much she loved nature and being kind to people. She was into life. She loved living," says Khydijah.
She is adamant that Toveet would not have killed herself. "She wanted to travel when she got out of the military. She wanted to take [her siblings] M and S [names redacted] to New York," says Khydijah. "They made plans to travel and go to a few places in America. So, all of these plans, I know that she was not planning on hurting herself. And plus, she was into herself. She loved getting dressed up. She looked like a beautiful doll, a beautiful queen. So beautiful and free-spirited. She wasn't in a depressed mood, or feeling insecure about herself, or have any problems with anybody."
In the days that followed Toveet's death, Khydijah wanted to meet with her commanding officers. "I had questions.  I had to ask over and over to see them.  I wanted to talk to the higher up commanders," Khydijah says. When they came to visit the family home several days after Toveet's death, Khydijah had stern words for them. "I was hoping in my heart of hearts that none of them had anything to do with it, because it's going to be very rough for them in their life, whoever had anything to do with this. It will be very bad."
At that time, Khydijah did not spare Toveet's commanding officers the heavy burden on her heart, she says. "I didn't bite my tongue. I told the commanders and I told her friends. I said that somebody on the base hurt my daughter, I said that she did not do that to herself. I know my child, and there is no secret to how I feel," Khydijah recalls saying.
"I feel that whatever happened that it had to be a big person that arranged this, to do this, to cover something like this up. I wouldn't be saying this if they hadn't said that my daughter killed herself. I don't want you all to tarnish my daughter's character," Khydijah says.
The IDF spokesperson response: "The army extends its condolences to the bereaved family. Toveet Radcliffe's death was thoroughly investigated. All the material was made available to the family. The family's request for more information will be met".