"Every Arab in our community will suffer, and the same fate expects anyone who supports an Arab family. I told him that everyone better stand with us against the Arabs because on our part there'll be clashes and frictions all day and he can forget about living peacefully".
A., a resident of the newly formed ecological community of Nurit on the Gilboa mountain ridge in northern Israel, used these words to express his disgust of the thought an Arab M.D would move to his community. "I'm usually all for working quietly" he wrote, "but I have to make it clear to all residents that Arabs moving in is out of the question and would be the equivalent of an earthquake". A. is part of a group of nearly 20 people whose correspondence had reached The Hottest Place in Hell showing their different efforts to prevent Arabs from joining their community.
The group was formed as a follow up to a Facebook discussion that started between residents of Gan-Ner, a nearby village where some of the future residents of Nurit currently live. It all started when a Gan-Ner resident posted a picture on his Facebook page featuring an Arab youth waving a Palestinian flag near the Eiffel Tower. The writing next to the picture read "Do you know him? No way you don't".
Group members failed to see the point and one even asked him what was he trying to say. Another member replied: "His father works in Gan-Ner and pretty soon he'll be your neighbor in Nurit". The Arab youth was the son of Dr. Ali Zuabi, an Arab physician working in Gan-Ner among other places and bought a plot of land in Nurit.
The discussion that began on a low key escalated. Some group members who weren't even sure that young man from the picture was the doctor's son quickly responded. "It is sad indeed!!!" wrote Aviva Julia Hartman, "does the father know what his son is up to? Maybe he was the one that made the swastika graffiti at the town entrance", and Dor Cohen replied "I believe it was the father that educated his son". Some residents demanded that "he should stop treating our children" and "he should move back to Gaza".
 Some voices called for order to return. "Guys, let's not get too militant" Avi and Limor Malka wrote, "The father is a wonderful doctor giving good and professional treatment to our kids. We're looking at a 13 year old boy that probably posted what he did without his father's knowledge, and without giving it much thought. We should work to maintain the coexistence on the Gilboa. We have good neighbors, who want to live in peace and quiet just like us. Dr. Zuabi treats everyone with no religion, race or gender difference. Please respect him as well as ourselves".
These moderate voices probably convinced Y. to open a parallel WhatsApp group. Only those who he thought support his view that the doctor should be kicked out of Nurit were invited to join in in hopes of turning thoughts into actions. The group was named "Nurit people – decree no. 8" (an Israeli military term for immediate enlistment of reserve soldiers in their units – translator). "This time it's war and we need as many people as possible", A. writes in demand to have people join in, "we have to switch gears and move faster".
Young Zuabi's picture gets harsher responses on the WhatsApp group. S. is quick to declare upon joining in "good morning all. I just saw all that went on. I want to puke all over him and burn him with his flag and have his father go 1,2,3 and move to Gaza, this human trash".
"I think we should get lots of concrete barriers and create a buffer" another proposes.
And a few more ideas:
A: "We should wear him out through his son, so that he understands what would happen if he moves to our community"
L: "So how will we wear him out? I haven't heard of any ideas"
Y: "Fear"
L: "Fear of what? What are you going to scare him with?"
Y: "Fear of the residents. He won't sleep quietly"
A: "He should understand he won't have a single day of quiet and more important that all the 'moderates' understand that because of Zuabi the entire community would fall apart"
Y: "Make him know that there is a great concern to his children wellbeing"
A: "I told H the day before yesterday not to be confused. He wouldn't have a single day of quiet in the community he dreamed of if Zuabi moves in"
Y: "We have to make noise across the community so that he'll know he's not desired"
A real Arab hater
"At the foot of the Gilboa Mountain up north", says Nurit's website, "Along the breathtaking scenery of the Harod valley, The community of Nurit was founded. Nurit is a community village and was first built by Jewish immigrants who came from Yemen in 1950. The name Nurit (Hebrew for buttercup – translator) was inspired by the nearby village of Nuris" (that existed until the Israeli war of independence in 1948 – translator).
"The village of Nurit puts an emphasis on sustainability and nurturing a community incorporating elements such as tourism and other businesses from different walks of life, as well as maintaining assets such as scenery, nature and the quality of life for its inhabitants. All of these make Nurit a true gem, a unique village, in which you can enjoy today the quality of life of tomorrow. These days some 80 families are about to break ground and start building, families that already passed the screening committee".
But this gem of natural beauty is being ripped apart, and the quotes from the WhatsApp group that started leaking out concern many of the community members who oppose the views expressed in it and see Nurit as a village open to everyone.
Thus one of the Gan-Ner residents, Lotan Tubi, wrote on Facebook: "It's a disgrace. A huge shame. I have no other way to describe the racist discourse going on. One day after the elections for Head of the Regional Council my Facebook page was overflowing with calls for coexistence and fighting racism. Posts that were all about being good neighbors and friends. I'm reminding you that those posts came out after one regrettable expression by one of my good friends denouncing our neighbors from the Arab villages around. And now what happened? What changed? Some of those writing now we're anti-racism back then and suddenly changed colors. Is it hypocrisy or following the herd? Is it because it's easy writing about a 13 Year Old's brain fart?! Go into the Facebook of some of Gan-Ner's kids and you'll be equally appalled. You won't believe some of those who wrote are your children's best friends".
In retaliation the WhatsApp group quickly adopts defensive codes. They ask to use caution while adding new members in fear a "spy" is being planted in, and a new recruit joining in is dubbed "a real Arab hater".
"I have nothing against her but she is pro mixed-community", is written about a would-be joiner that was banned, and someone reacts " if she wants to, we can get her a plot of land in Tuba Zangaria (an Arab village – translator)". About H who is being referred to as "the policeman" as sign of disrespect, the following is being written due to his respect not to inflame against Dr. Zuabi:
R: "Listen, I told him, you can't force your opinions on us, and especially in this case where the guy is going to live in our community and poses for the camera with the flag of the fictitious entity called Palestine, Mr. H"
A: "He talked to me too. I told him that regardless of Palestine any Arab that would live in our community will suffer and the same goes for everyone who supports an Arab family"
Y: "Very good"
A: "I told him that everyone better stand with us against the Arabs because on our partthere'll be clashes and frictions all day and he can forget about living peacefully. He said it's a shame you behave like this. By the way the Arab passed the screening committee".
This group too has voices calling for moderation, but only for fear of a leak. K wrote "I propose we try to chatter as little as possible and not use racist derogatory names… also, we should use clean language so that god forbid conversations would be leaking out and that would portray us badly".
M adds "I think that the media or fighting too hard may harm us. We should understand that we have to work prudently because the media is a double edged sword that would boomerang back – more such cases would come up and that would lower the land value and would only damage us".
A replies "You're right on the big picture, but six months ago we thought like you and it didn't really help and eventually Zuabi joined the community because 'we behaved like good children'".
M, asking to use legal measures against Zuabi, wants to address the screening committee and wonders if they knew it was his son in the picture.
Z say – "It's his son".
Not fitting the cultural atmosphere
The group members decide on several courses of action: the legal course including a formal letter by a lawyer to The Settlement Division (a division of the Ministry of Housing that allocates lands for settlements in Israel – translator), The Jewish Agency and The Regional Council calling on the revoking of Zuabi's membership in the community under the claim of "not fitting the cultural atmosphere" (a known argument that receives lots of criticism in villages like Nurit). The Jewish Agency's legal team asks them to address their complaints to the community's screening committee with a copy addressed to them. They decide to approach right wing activists like Itamar Ben Gvir (who asks they call him in the morning) and Former Member of The Knesset Michael Ben-Ari (on holiday).
Z's first approach to Likud Member of The Knesset Miri Regev gets a cold shoulder as she replies "if the law permits it, then nothing can be done about it". There a long deliberation about letting the media in on this case but the residents claim that during Operation Protective Edge the Israeli media turned out to be leftist and therefor there's no point in trying.
Soon concerns that other Arabs would buy plots of land in the community emerge, despite the fact there are no lands on sale. "Half the Arabs in northern Israel already want in on the community once they understood Zuabi is in" someone writes, and another one adds: "there are quite a few Arabs who are approaching those who have plots of ground and offer double the money so that they can move in".
The correspondence continues in these very hours including statements like "his son is a terrorist", "either we're all in it together or we'll all have Pita bread with Labaneh cheese (a traditional Arab laborer's meal – translator) in this Jewish community", "All the residents should understand this is a time of dire", "we should wear him out as well as all of those gentle souls who are routing for him".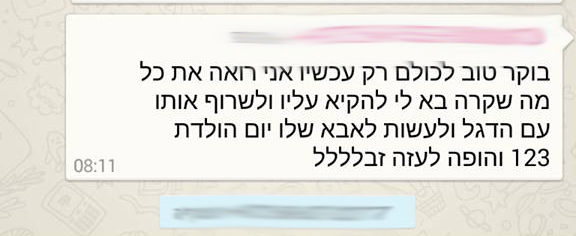 And so writes Y: "Yes, but we truly don't care about land value. We just want a quiet village without Arabs and if we can't have that I don't want to build my house there at all".
A responds: "The residents have to realize that the community has racists that would make Zuabi and his supporters suffer and sorry for the moment he decided to live alongside Jews".
Z: "Friends, there's nothing wrong with making noise and replying on Facebook without breaking the law. And without racist phrases there's nothing wrong with innuendos and you can always add allegedly. For example: 'Zuabi is presumed to be an alleged Hamas member'".
Y: "The truth is that us, the old folks from the previous round, don't believe in the quiet way anymore because last time we saw it got us nowhere".
On Thursday morning the residents came up with "An urgent request for the community's managing committee's gathering" in demand "to revoke Mr. Zuabi's and his family's approval into the community by asking the screening committee to reconsider its decision to accept him in, in light of the circumstances change and the fact he's not fitting the cultural atmosphere in the community".
The residents, as they call themselves time and again, do not refer to the claims made on the WhatsApp group stating that they wouldn't let an Arab live there and would make life miserable for them and for those who stand with them. They only refer specifically to Zuabi and his son:
"We're looking at a case in which a man claims to speak in the name of coexistence but holds extremist and violent views. Views we strongly object and denounce and surely we wouldn't want our children to be raised next to… exposure to such extreme views from those who are supposed to be neighbors is not only offensive and insulting, it's hazardous and unsafe – literally".
A sign of a gun
Wednesday afternoon. The road to the village isn't paved yet. No sign is visible turning from the main highway to the road going up the mountain. Only at the entrance to the access road, a curvy road not covered in tar yet there's a small sign: "Nurit".
Dr. Ali Zuabi, children physician, and Dr. Zada Zuabi, who specializes in geriatric medicine, came to see the plot they bought. These days they're looking for an apartment for rent in Gan-Ner, to live in when the building begins in Nurit. Meanwhile they live in Meser, next to Kibbutz Gazith. They've been married for 18 years, have 3 children, the older daughter plays basketball with the Gilboa girls' team.
"I was interested in this place 10 years ago when the idea for the village first came up", says Mr. Zuabi, "and I called back then. I started the process with the marketing company over a year ago and last June we finished the screening process".
The time for appealing against the screening committee's decision, a 60 day period is now overdue. The couple defines themselves as Arab-Israeli, secular, and Zuabi says that if ISIS catches up with them – they'll be the first ones to die. The society they're with is mostly Jewish: "We find it more convenient".
Why did you choose to live here?
It's an ecological community village and with my experience in the last 20 years, working only in the Jewish sector, I thought this was the place to live in. For work, for the society around, for peace of mind and for a different kind of education for the kids. For 20 years I've been solely at the Jewish sector, working on Ha'emek hospital in Afula, a children physician in Gan-Ner for 14 years. The children I treated have become parents that bring their own children to me".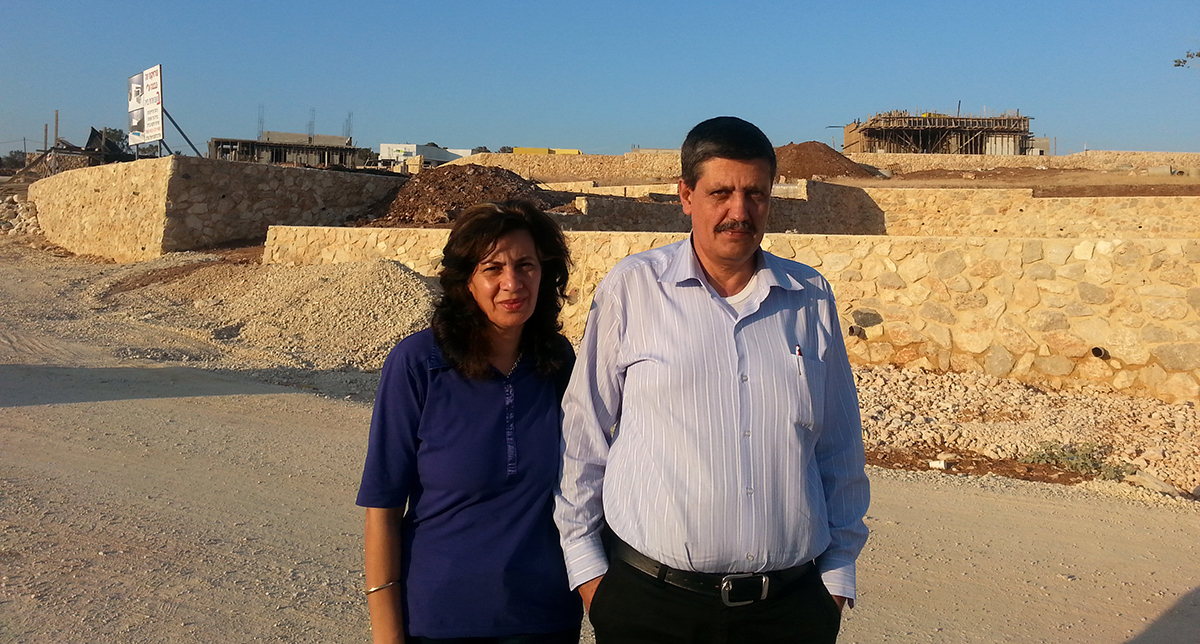 Were you aware of the resistance against you joining the community?
"About five months ago I was invited to a cup of coffee by two future residents of the community. They tried to convince me not to live with the Jews because some prefer an Arab-free community, especially families moving in from Afula, Nazereth Ilit and Migdal Ha'emek. According to them, they allegedly spoke on behalf of other people. At the end of the meeting one of them told me: 'if you don't care, these people may hurt your children' and marked a sign of a gun with his hand. I told them this was my decision after studying the whole community issue and therefor I intend to live in this village. I haven't heard from them since".
Zuabi's son, almost 13 years old, is on Summer School in England until next week. As part of that, the students went on a 3 day trip to Paris, where the picture that started the flames was taken.
Residents say your son had his picture taken with a Palestinian flag and that he is a Hamas supporter
"Yesterday I got a phone call from one of the residents that asked me about a picture my son posted on Facebook with a Palestinian flag in Paris, next to the Eiffel Tower. After asking the boy about it, a boy who is quiet and bright, it turns out the boy was there and two kids from Amman, Jordanians, asked him to take their picture with the Jordanian flag on their cellphone. After doing that they asked him if he wants his picture taken so he did and he posted the picture – the flag was Jordanian, not Palestinian".
"During the night the head of Gan-Ner's health committee called me to inquire about the Facebook picture. It's a 12 year old boy, I explained, in early puberty and perfectly normal. A quiet and calm boy that attended a lot of gatherings and meeting with Jewish pupils in the region beginning on 3rd grade. We're not like that. Two of my nephews who finished high school a year ago did a year of public volunteering with the family's recommendation before going their academic studies".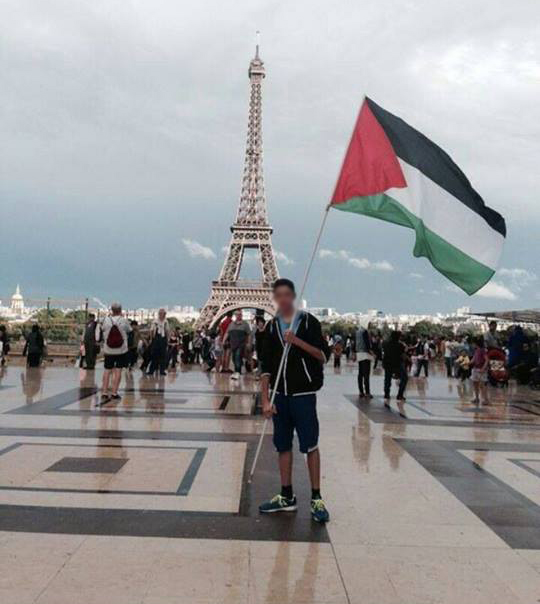 You deleted your son's Facebook page. That's like pleading guilty.
"I don't know my way in this technology known as Facebook. Talking to my son the day before yesterday, he said he wishes to keep the picture so that everyone can see it's a Jordanian flag. It's possible he panicked from the amount of noise surrounding the pictures and decided to close his profile or someone closed it for him. I knew nothing of it and don't know about technology. He is a really good boy, but very young".
What will you do about people organizing against you in Nurit?
"I feel trapped. In this country the rockets don't know the difference between Jews and Arabs. When I meet with doctor friends who live in the occupied territories they call me a collaborator, and now in Nurit I'm considered not faithful enough to this country. I would like to tell the other residents that before they decide to act and use words and threats, threats that may become actions because they're looking for my boy on Facebook – and slandered him on several correspondences calling him 'Hamas supporter' and as such – it would be better to sit down and discuss and know each other rather than attack".
Are you going to live here anyway?
"Yes".
Are you afraid?
"No".
People plan radical actions
"What's unclear about it? What's written there is as clear as it gets", replies K, a Nurit residence that refused to use his full name. After talking to him, the others refused to respond. "I'll give you the facts and you can interpret those anyway you want", he goes on "what really happened is that there's an Arab family that passed Nurit's screening committee when Nurit is a Jewish village OK? And a member of the family posted pictures of someone waving the flag of Palestine and has a background photo of a hand holding rocks – a picture that's associated with Hamas".
Have you tried to talk to his father, Dr. Zuabi?
"I didn't try talking to the doctor. I tried talking to him in the past".
Are you saying that as far as you're concerned there's no place for discussion with someone whose son posted pictures?
"I personally have no interest talking to people who support a terrorist organization. Yes. It's not an issue of racism, not a left or right wing issue. The issue is my children who are going to live in this community and I don't want a neighbor with such views living next to me".
What are you going to do?
"Act according to the law. Whatever the law permits. File appeals, send letters, requests, screening committees".
Did you approach anyone already?
"Yes. We're in the midst of doing that".
K adds that among Nurit residents "some have views that are far more extremist and plan radical actions. The nucleus striving for the benefit of the village doesn't play along with these things. They're not our Facebook friends, they're not members of the WhatsApp groups and we shake them off our backs".
These are people that will live alongside you?
"People who want to live in our community and want to enter our WhatsApp group – whose words are going to the extreme and we find that unacceptable".
Are you trying to do something about it?
"We explain that if we want to do what's right we have to go by the law otherwise nothing will be achieved and that's bad. We don't behave this way. We're not this kind of people".
The Hottest Place in Hell is an independent Israeli news and ideas site devoted to issues of civil society, politics, welfare and culture