Photo by: Miki Kratsman
"Gaza is very small," says Ai Weiwei, "smaller than I imagined. When I asked about places I wanted to get to, people would say 'Oh, that's far.' 'How far?' I would ask, and they would say '30 minutes'. 30 minutes? I lived in Beijing, in 30 minutes there you don't get anywhere, and in Gaza – you're everywhere.
"It's an illusion. Gaza and Israel are two different worlds. For people who come from abroad, it's impossible to understand that these are two worlds when the real physical distance is right here, behind this door. You open a door and you're on the other side. One of the things that amazed me was when I understood that there are Israelis, who are also activists, who have never in their lives been to Gaza. When I asked them they said to me 'Are you crazy? It's dangerous there'. But it's here. Have you been to Gaza?"
Once – in the '90s. During the Oslo days, the newspaper sent me to do an article on the Gaza nightlife. Everything seemed really optimistic then, I went to the beach and cafés and clubs.
"So today there's the most pathetic beach in the world there, not a single tourist or café. Very poor, just a few fisherman and there are limits on how many fish they're permitted to catch, so they just catch little fish. They're in trouble, and it surprised me to see that people can live under such difficult and strange circumstances, and still live. They were very patient and received us well. Very relaxed, friendly".
Photos: Ai Weiwei Instagram account
Did you see remnants of Operation Protective Edge?
You can see that every corner has been cleared; they're building new houses. There are no ruins. They ground it all down to dust to reuse the materials for construction, they just use it all again. All those images of destruction – they've disappeared. But people remained, a lot of them disabled, and of course they talk about it. It was less than two years ago!"
Not just the distances, even Israeli-Gazan time is deceptive, and you need an artist the magnitude of Ai Weiwei to try to give this reality some kind of form. Not that he knows what will come out of it. He's been roaming around the world for a few months with his assistants and a camera crew, 11 people arrived with him in Israel, he leaves behind breathtaking pieces of artwork and collects materials. He says that he's working on a "documentary film" about 7-8 topics. Whatever the results may be, do not expect an hour-and-a-half long film that will be screened at festivals. Gaza is an important stop, as is Jerusalem, but both are just stops on his incredible journey. After he left his native China, he settled on the beach in Lesbos, Greece and worked there, then continued to explore Europe and traveled to Turkey, Jordan and Lebanon, he was in no mans land on the border with Syria and still didn't give up on the chance to reach it. "They thought we wouldn't be able to enter Gaza, either," he says with a smile. The world is spread out before him, a massive open space within which he constructs his greatest work: the refugees' stories.
***
Ai Weiwei, 59, a Chinese born international artist, is one of the most important artists working today. His work is displayed all over the world, and he is doing new work everyday. On Sunday, May 8th, he came to Israel for a surprise visit, his goal: to enter Gaza. In the afternoon, he posted two pictures on his Instagram account, as he tends to do, sometimes dozens of times per day, including a photographs of the entrance to Ben Gurion airport and his entry permit into Israel. It was the first and only announcement that the art world celebrity's had landed in Israel.
He did not announce his arrival officially, as he did not come to stay or exhibit his art. He came to work. On the day he landed, it became clear to him and his staff that the local production company Hilight Media that had arranged a series of interviews in Israel and Gaza, could not get the border crossing permits the team needed. On Monday morning, the office of the Coordinator of Government Activities in the Territories, which is in charge of providing such permits, did not know what this was about and who "this guy" was, they said, who was requesting entrance to Gaza. After it was published in Israel and around the world, and responses began flooding in, the Coordinator's Office seem to recognize the potential for complications and within just a few hours, the team's entrance to Gaza was authorized for the dates requested. On Tuesday, Weiwei entered the Gaza strip through the Erez border crossing, the crossing was closed to traffic until after Independence Day and on Friday, he came back for another day in Israel, which the team used for another series of interviews in Hebron and Qalandiya.
The delay that nearly prevented him from reaching Gaza failed to rile the embattled artist who has been through Chinese prison and was subject to a long house arrest in his home country. "There was a procedural problem," he said. "What they didn't know was that I wasn't leaving Israel without reaching Gaza.  In the worst case scenario I would have waited here longer for permits."
In the six days he spent in Israel Weiwei worked non-stop, from the early hours of the morning until the middle of the night, and with his team, interviewed dozens of people, including MK Ayman Odeh, Hanan Ashrawi, Yehuda Shaul, founder of "Breaking the Silence", and Hagai El-Ad, the director of B'tzelem. He posted a tremendous amount of photos and videos on Instagram, documenting every move, including a number of selfies, and his fans around the world followed him there as well. The interview with him took place on Friday evening. He's alert as if he didn't just return from Gaza this morning through Hebron. He's patient, very humane and precise with his answers.
He doesn't answer questions like, "Your most difficult moment in Gaza," but his cellphone documented plenty such moments. "The hardest part was trying to understand the situation," he said frankly, conscious of the fact that he was a stranger that landed there for just a few days, "we don't come from a religious society, so to understand the religious background, of both sides, and the hate…it's hard to understand". One of the videos shows the tiger in Gaza's dying zoo, after it are photos of animal skeletons. "Most zoos are sad," says Ai, "but this, it's a deeply symbolic expression that demonstrates the living conditions of the people there. This beautiful tiger lives there, closed in a cage that measures twelve square meters, and he has nothing to eat. It's terrible, but they have no food. How can they feed the animals?"
In another series of photographs that he uploaded you can see roughly 10 armed youths, some masked and others with war paint, spilling out of a moving vehicle as they wave their weapons. At first glance, this is a car loaded with warriors, a show of force by Hamas or another group. "We shot a group of armed youth, they're putting on a kind of play, a performance," says Ai, "they put on a soundtrack of gunshots, holding real guns. And they are very young and naïve. They don't really know what they're doing. That surprised me, and my friends from Gaza. When they passed by us I was shocked initially, and I jumped out of the car and my legs took me there to photograph."
You didn't try to run away?
He answers seriously: "That's my problem, I don't run away".
***
Ai was born in China and grew up there, in the 80s he moved to the United States for 12 years, at the end of which he decided to return to his home country. He stayed there and was active in China since '93, reaching international recognition as one of the most vocal critics of the Communist party. He paid a heavy price, though: in 2011, he was illegally imprisoned for 81 days and was prevented from leaving China for five years, his passport was cancelled and the authorities tried to prevent him from using the Internet, closing his blog. The extravagant studio he built in downtown Shanghai was destroyed under the pretense that it was an "illegal structure," he was blamed for financial crimes and fined 2.3 Million USD. Throughout the years, a powerful campaign in the West accompanied his struggles, calling for his release, the return of his passport and that he be allowed to be active and speak. Ai had never been silent. When he was beaten by police, he came to the police station to photograph, he tweeted everything that happened, and in one of the most prominent acts at the end of the period of silencing, he installed four surveillance cameras in his home and broadcast to his fans all over the world – a contrast to the surveillance cameras that the authorities had installed along his street.
In July of this year, the pressure proved effective: his passport was returned so that he could put together an exhibition of his work in London, and eight months ago, he left China. Since then he has been wandering around the world, documenting refugees, and the definition is expanding. He began on the beach of Lesbos where he opened a studio for a time, producing two well-known works: the unpalatable photograph of him lying on the beach in the position in which the child Alan Kurdi was found dead, and the encasing of the Berlin Opera House in 14,000 orange life jackets that he collected on the beaches. When photographing in the refugee camps, in which he took an interest, he found Palestinians among the refugees, "refugees a second time," as he described them, and when he began his tour of the Middle East he already knew how to get to the refugee camps from '48. To him, Gaza was the next logical step.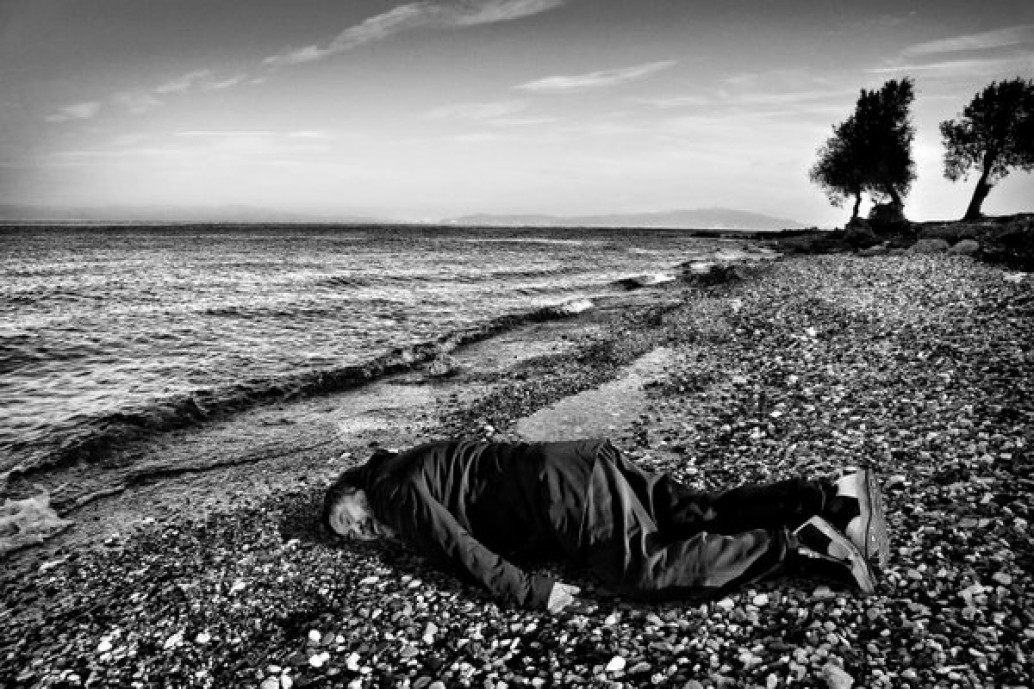 What is a refugee to you?
"People or a group of people that were forced to leave their homelands because of the police or religious reasons or beliefs, and as far as I'm concerned also for economic reasons. They are forced to split and escape and leave everything behind. It's a terrible situation."
And your connection to it? You were an opponent to the regime, they tried to silence you, but you weren't a refugee.
"I didn't think about it consciously, but when I was born, my father was exiled (Ai Jiang – a well-known Chinese poet – E.F.) and we were refugees. In China, half a million intellectuals were exiled during the 'Cultural Revolution', and my father was one of the greatest anti-Communists. I was a year old when it started and by the time I reached the age of 16, my whole family had migrated to towns and villages that we never even dreamed of reaching. It was the most distant and difficult it could have been. A hundred times Israel and Gaza. That doesn't begin to describe it.
"After high school there was an opportunity to get out, and I immediately left for the United States. I left China because they ruined my future, I thought that there was no future there. In the United States I wandered between dozens of places, I studied art, but I didn't fit in. You don't have a sense of home there. I tried to make a normal life, in New York we were all immigrants and struggling, and I was part of that. In the end I saw that there was no future for me there. When I left China, I said that I would never go back, but I went back. My father passed away and I knew that I had to. I was strong enough not to be afraid. In the end I stayed there for more than twenty years.
And then you left again
"I have been wandering for eight months. Now I've decided to settle down and I've settled in Berlin, I opened a studio, I was given a professorship at the University of the Arts. This is my place now. I don't speak German, and it's not a culture that you can integrate into, but there are young people there from all over the world and I'm focused on my studio. I don't have a social life, I've never been to a bar there, I don't visit other galleries. I have a good work space and 20-30 people who work with me as assistants or on collaborations."
Will you return to China?
"Yes. I try not to think that I cannot go back, but not to live there. I've lived long enough in one place, and I don't have a sense of home, not even there. I think that I just don't have a sense of home. I'm always moving from place to place, and my family never settled in one place either with a history of 'I have a grandfather here and there I have someone'. It doesn't exist for me".
So where is your home?
He stops and thinks: "My home is on the Internet, that's my answer today. It's the place where you meet people and exchange information and hear arguments, there is freedom and beauty, it's magic. It's technology, but it's so free.
"I'm ready to give up everything for the Internet. It's everything that the human race has managed to achieve, it can be as exposed as possible, to build your knowledge. It's beyond a dream. Art is, after all, the experience and the communication, to reach our deepest emotions. The Internet has all of these features. Even in Gaza, or in very distant places, this communication never ceases to amaze me. Today we were in a very primitive village (in the southern Hebron hills – E.F.) and someone came up to me and asked 'What's your name?', I told him and he said 'Is it really you??'
---
"It's this kind of personal communication that has changed  the world, it's not the same old world that acts the way it did – dark, separated, based on defense and hatred It doesn't exist anymore. We still have hope".
Although you've been dealing with the most difficult issue of our time, you're optimistic?
"Of course. This is the most optimistic time, the change will come. But only thanks to the technology – not politics and not the struggle for human rights. These are old concepts. The experience, the sharing, the basic emotions, the children's future, an attempt to speak the same language – that's the Internet".
Your critics say that you crossed the border between art and pure activism, to recruitment work.
He laughs: "Art needs to be redefined as well. All of the artists must be activists, if they don't get new ideas or adopt the new concept – they're cowards. This is decorative aesthetic cowardice. There is no redefinition, it's not related to our time. That art is dead. Art means no limits".