Let's start on the bottom line. If there is a potential political assassin in the Israeli right, that person did not attend the right wing demonstration on Rabin Square in Tel Aviv last Saturday. The guy who told me "I got myself a brand new pole for my flag, it will be a darn shame not to bash a leftist's head with it" scares me a lot less than those who say nothing. In fact, his kind do not scare me at all.
Originally the plan was to go to the much bigger left wing rally that was held on the square, and count the number of Israeli flags there, due to my obsession about this issue. I counted: there were 3. In fact, if to be totally honest – there were 4, but the 4th one was the Israeli flag drawn in white, green, red and black like the flag of Palestine, so I decided it will stay outside the count. After counting I went to the demonstration that had a lot more flags on it, much smaller yet much louder, the right wing demonstration.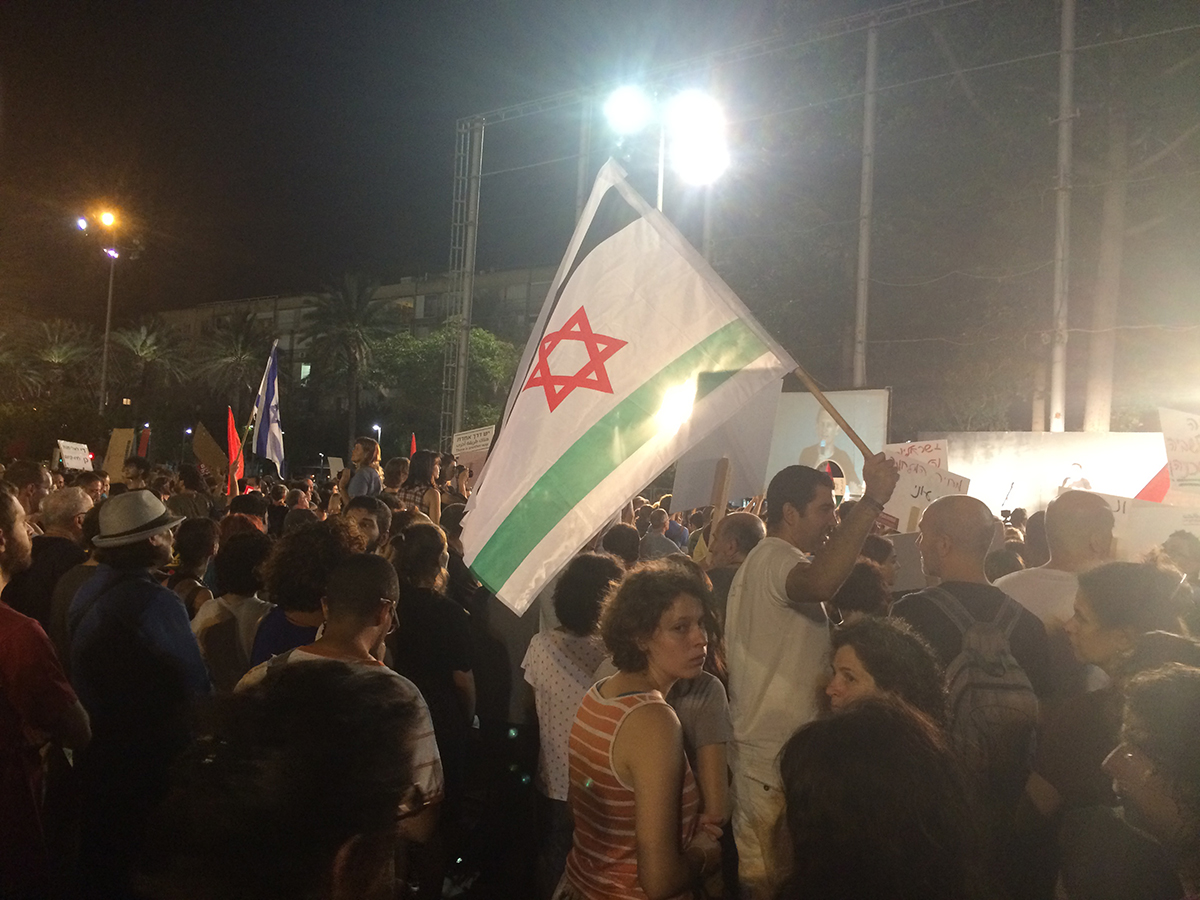 Going out of the left wing rally perimeter, next to the long water pool along Ibn Gvirol street, stood a man in his early 40's with an Israeli flag head bandana and two wristbands wrists (as if he came straight out of the 1980's)  with the Star of David on them as well. "I was here first, with the left rally organizers", he proudly told his friends as riot police patrolled up and down the street, "I went to the guy in charge of the loudspeakers and said look asshole, we're all Jewish. Some things are more important than money brother. We'll pass a hat and get you your money if you just don't hook those loudspeakers on".  The other guys asked why didn't the guy agree, and the man with the wristbands said that the guy was human garbage and no one should ever work with him. The rest of the group nodded.
"Damn their mothers! Look how many people they brought, god damn them!" says a guy next to me as we approach the perimeter designated for the right wing demonstration. "I didn't know there were so many left wingers in the country! How are we supposed to kill them all now?" He tries to evaluate how many people came to the right wing event and asks a police officer if it's 300 or 400. "About 400" the officer replies with a dry voice, "but it's an unofficial count". I try to encourage him and say I think there may be more, but he isn't looking happy until he joins in on the crowd and starts chanting with the group.
A guy walks into the perimeter with a yellow-green Golani Brigade flag. "Wild goose" is written on the flag, the nickname for one of the companies on that brigade. "Rifleman on the 12th battalion?" I'm asking him, as I know this unit. "No man", he says, "I served in the Israeli air force, but I'm Golani in my heart all my life". He never saw a moment of combat in his life.
The repertoire includes songs that every football fan that ever went to Teddy stadium in Jerusalem – the home field for Beitar Jerusalem FC  whose fans are known for being ultranationalists – knows for years.
A song that thrashes Salim Tuama, an Arab-Israeli player that plays for the politically leftist oriented Hapoel Tel Aviv FC, is being sung with the required adaptations: it's now a song that denounces Ahmad Tibi an Arab-Israeli parliament member ("your son will be the next to be hurt") and Haneen Zoabi, another Arab-Israeli parliament member ("the next penis entering you will be mine"). More on the repertoire are songs making their debut with words like "school is out in Gaza – there are no children left there" and "1000 casualties".
A young man with an orange shirt stands next to the group that chants in the center of the rightist demonstration looking concerned with what's going on around him. "Is everything ok brother?" asks a guy wearing a flag bandana, an Israeli flag as a cape and holding a flag in his hands. "These songs don't fell right for me", says the young man. "Are you a leftist, man? Because if you are I can't talk to you" says the human flag, "If you're a leftist it's like betraying your people and betraying me, and betrayal has its price, you see?" The young man with the orange shirt says he didn't decide what his views on the war in Gaza were, and that he came to hear both sides. I really have to restrain myself to not break out in laughter. This is no place to hear intelligent debates and listen to ideas. There is only one idea reigning over this demonstration, and I have a feeling you don't share that idea.
Every now and again we break out of the enclosed perimeter we're assigned to on the square. Well, "breaking out" might be a little over stating it, as the 8 regular police and border police  assigned to keep the entrance aren't even trying to stop us, nor could they had they tried. On Ibn Gvirol Street as well as on the other side of the square behind the stage with the podium on which the leftist speeches are given, the horse mounted police and the riot police are waiting to buffer between the right demonstration and left rally. The rightist demonstrators walk slowly towards the stage, as if they want to b stopped and not clash with the leftists, but the police does not stop them until the very last moment. Right behind the stage, the entire repertoire is being sung again. None of the dozens of police standing around the chanting demonstrators seems to care, but then one of the demonstrators says "The police is a whore!" and he is immediately taken in for questioning. To rejoice the death of children and call to hurt members of the Israeli parliament is one thing – but saying something bad about the police? Offending REAL public workers? That's like crossing a red line. This is a law abiding country, after all.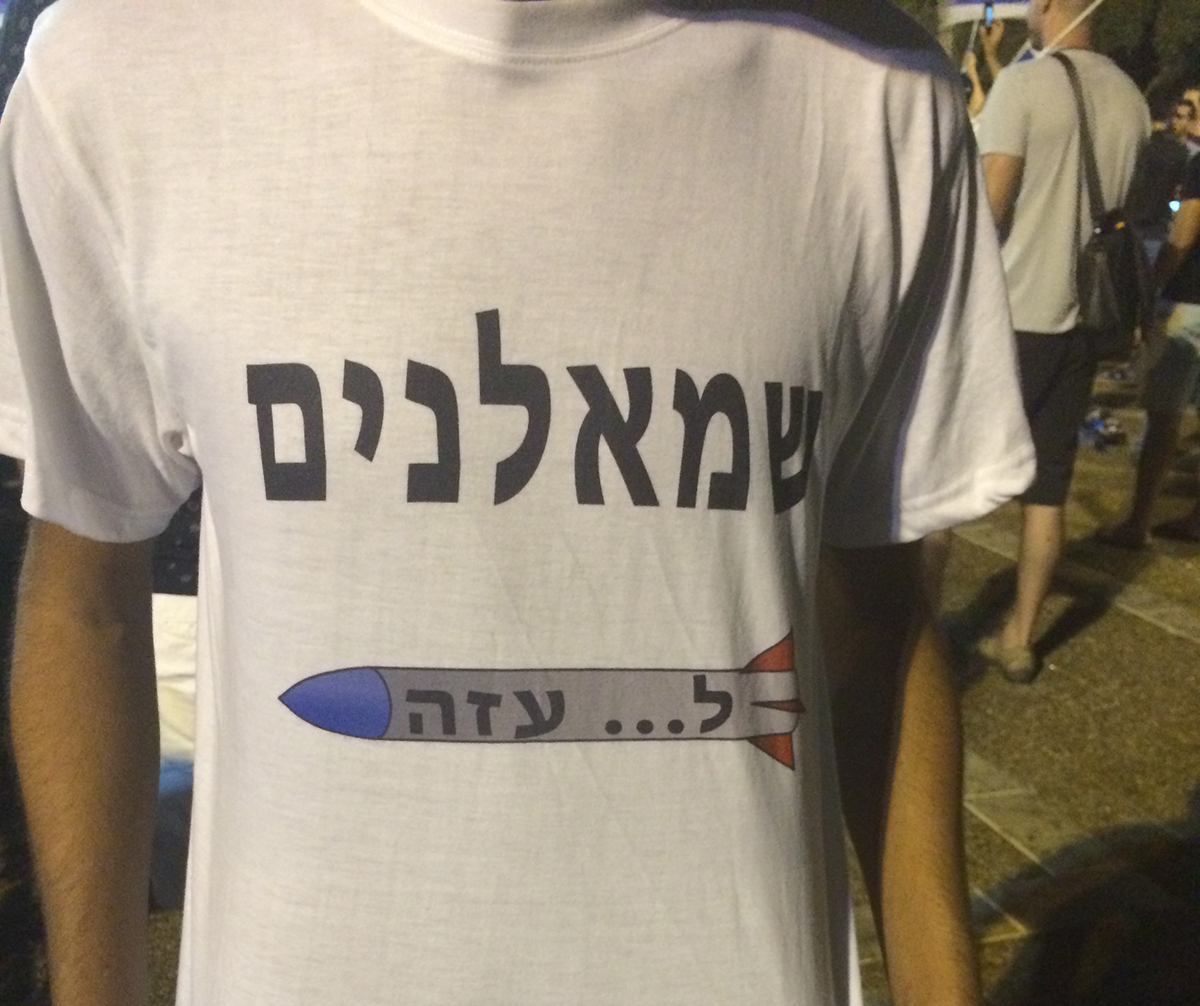 A Homemade t-shirt saying: "Left Wingers- To…Gaza"
The thousands that attended the left wing rally scatter as it ends, and the right wing demonstration breaks into 3 or 4 factions. Some say they're going to the nearby Shaul Hamelekh street as they expect leftists to concentrate there. The guy with the brand new flag pole offers me to join in, but I follow a different group led by a man with a megaphone towards Masarik square. On the corner of Chen Boulevard a young lady with a T-shirt in Hebrew and Arabic that reads "Ta'ayush" (an Arab-Jewish cooperation group) goes through the demonstrators' group on her bike. The demonstrators call her a prostitute and wish she moves to Gaza where, according them, she will be raped. The riot police buffers between them and her, and she asks one of the policeman to press sexual harassment complaints against the demonstrator right here and now. "Do you want to live, lady?", he asks her, "You do, don't you? So move on. Go away. Go!".
And she goes.
In the small public garden on Masarik square some 70 demonstrators congregate and start chanting praising songs to Kach and Kahana Chai (both are Jewish terrorist groups outlawed in Israel in the mid 1990's, following the assassination of Prime Minister Yitzhak Rabin), as well as all the other "greatest hits" from earlier in the evening. Some 20 meters from them, stands a platoon of riot police led by 2 officers and they don't hear a thing. No illegal praises to terrorists, no threats to parliament members. Nothing. As long as no one says something bad about the police, no arrests are made.
After about 45 minutes they disperse, as if you can't find any leftists to pick on in this area (Tel Aviv, and especially this area, is known to be a left wing stronghold). They really don't frighten me, those demonstrators, and I'm not being sarcastic. Those who really frighten me are those who don't chant and don't shout – it's those who sit quietly, waiting for an opportune moment to arrive.