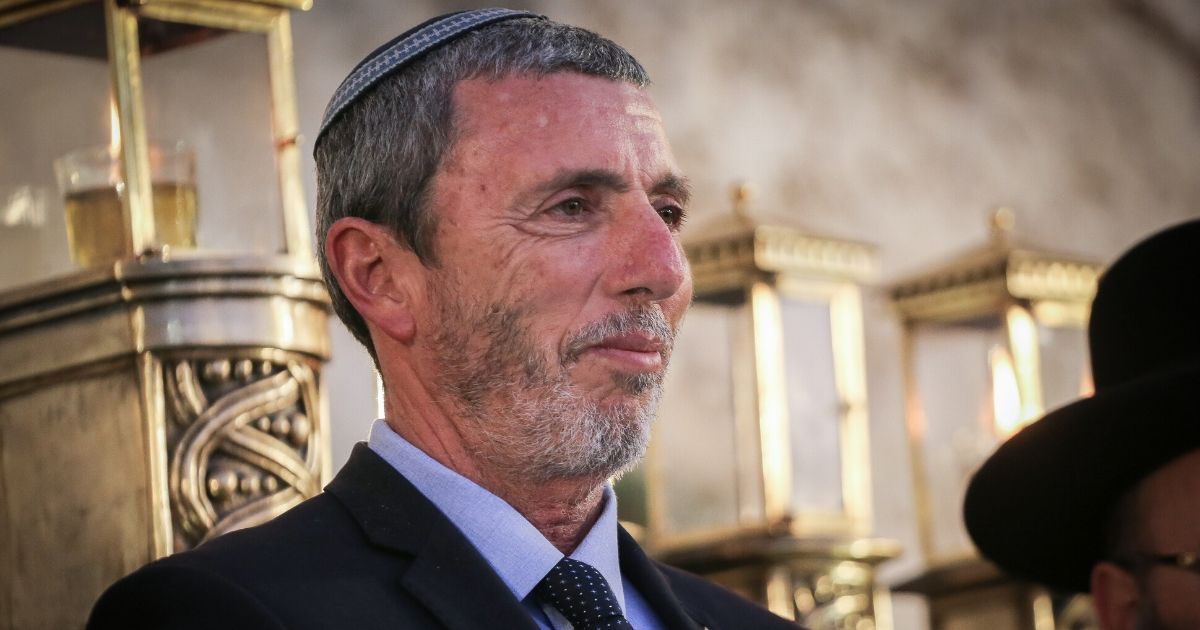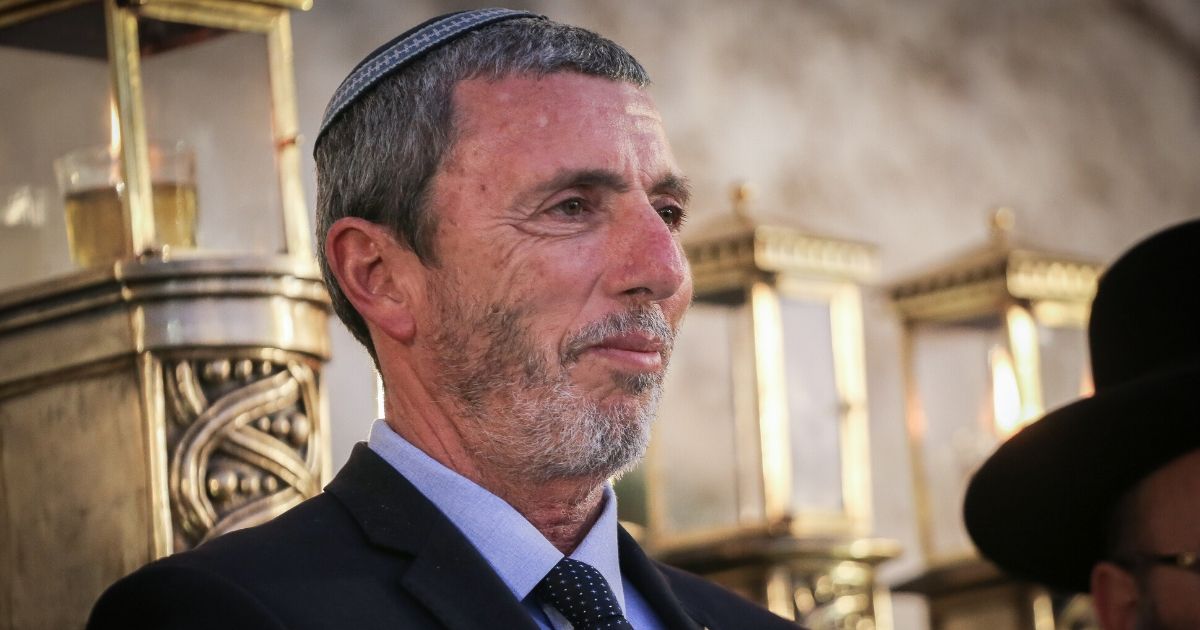 Rafi Peretz, Israeli Minister of Education | Photo credit: Flash90
Teachers and students in Israel protest following Minister of Education's homophobic comments
Thousands of teachers were instructed to talk to their students about the Minister of Education's comments regarding homosexuality and migrations. "We told them to be sceptical, not to accept it at face value. They were surprised by what the Minister said"
"Students have been talking to me about it all day. I'm the school's token gay teacher, and whenever something like that comes up, they come talk to me. They told me they couldn't understand how someone in his position could talk like that. Some of them took it personally."
Niv Sonis teaches religious studies in Tel Aviv's Ironi Tet high school, and is part of an LGBTQ teachers' activism group. He had a busy day in school yesterday. It all started last Friday, when the principal messaged every teacher in the school in response to comments made by Rafi Peretz, Israeli Minister of Education, regarding LGBTQ and other minorities in an interview to the Yedioth Ahronoth weekend supplement. "He instructed, not suggested, that we discuss it in class first thing in the morning."
When asked how he would react if he found out one of his children is gay, Peretz answered there was no such risk: "Thank God, my children received a natural, healthy upbringing." These comments join those made by Peretz in July, when he supported the option of conversion therapy. Regarding the agreement between his own party, HaBayit HaYehudi (Jewish Home), and that of Itamar Ben Gvir, Otzma Yehudit (Jewish Power), he said: "Ben Gvir have come a long way since Kahane [Meir Kahane, founder and leader of the ultra nationalist far right party Kach, which was outlawed in 1988 for inciting racism]. He's not a Kahane disciple in the literal sense of the word… He's legaly legitimate." Regarding the Palestinians, Peretz said: "They would have good, normal lives, and could vote in municipal elections." On foreigners living in Israel he said that "They belong in their own country" and that illegal immigrants should be deported "even if their lives are in danger in their own country."
"This school is a home to many groups who were affected by what Peretz said: We have Arab children from Jaffa, children to migrant worker parents and LGBTQ children" Says Ido Gidli, a teacher in Tel Aviv's Geula highschool, which affords a second chance to youths. "The groups the Minister attacked have faces. They're my students, my children. It wasn't theoretical."
On the first period, Gidli presented the interview to his students. "They shared feelings of fear and helplessness against people in power," he says. "One of them said that if the Minister would have said something similar about Jews, he would have been fired the next day. One student from the Philippines said it made her feel unwanted. A student from Jaffa said 'He can go fuck himself. He's nothing to me' He was speaking out of a great sense of insult. I told them: 'I want you to know that I love you and the whole school loves you just the way you are, and we don't care if you're Jewish or Arab, if you're straight or not, if you were born here or somewhere else – you're your own person and no one can take that away from you.'"
Daniel Baumgarten, a literature teacher from the Rishonim junior high in Ganey Tikva, said that in his class he read children the Israeli Public Education Law, whose aim, among other, is "to educate a humane person."
"I showed them that what the Minister said doesn't match the letter of the law, and suggested that they question everyone, never take what anyone, including me, says to them at face value. I recommended that they think about it and invited them to form their own opinions. The students know me as an openly gay teacher. They were surprised by the comments and don't identify with them."
Protest signs against the Minister of Education were hung in schools throughout the country | photo credit: parents from the black flags campaign.
The Basis is Human Dignity
From the moment the interview was published, last Friday, there was a strong public reaction to Peretz's comments. Dozens of cities, municipalities, local education departments, school faculties, PTAs and student councils raised a clear and decisive protest. Yesterday, in accordance with the instructions of local authorities, schools throughout the country held special class discussions about equality and acceptance, as a reaction to Peretz's comments.
Parents in the Gavrieli HaCarmel primary school received the following message Saturday evening: "Following an instruction from the city's Department of Education that schools open tomorrow's classes with a discussion on equality, acceptance, diversity and democracy, the PTA has decided to join the national protest on the subject, and ask that students come tomorrow wearing a white shirt in protest of the comments made and in support of humanism."
Other schools asked children to come wearing black shirts or gave them black ribbons to tie to their backpacks. Some raised black flags, and relevant lesson plan for every age group, from kindergarten through grade 12, were shared online.
Only two major cities did not address the issue: Jerusalem and Haifa. We asked both city councils to comment on their position on the subject and whether the department of education was instructed to deal with the issue in schools, but did not receive a reply.
"It's a protest of parents who rise up to defend their children, and it spreads."
"Human dignity is not a matter of left or right, it's not a matter of politics, regional or national." Writes Shmuel Boxer, Ness Ziona Mayor, on his facebook page. "Human Dignity is the basis. It is the ground on which we grow to be citizens in the society we aspire towards. At times it feels that this ground drops from under our feet. I instructed the department of education to dedicate tomorrow morning to an open discussion on the freedom of choice, any choice."
"Our department of education instructed schools to start the day with an hour of student discussion, in order to deliver the message and our opinion on acceptance," added Idan Greenbaum, head of the Emek HaYarden Regional Council. "Last year we held the pride week events for the first time. When people asked me what for, I said that if even one boy or girl who thinks they're alone in the world would see the raised pride flag and realize they're not – we did our job."
The rolling protest was started by Tami Yakira, from Tel Aviv. She says it all started three weeks ago, with the first announcements of Peretz's agreement with Otzma Yehudit. That was the beginning of the "black flag" protest on social media, which saw people changing their profile pictures and taking photos of themselves with protest signs.
"When I saw Rafi Peretz hugging Itamar Ben Gvir, with a picture of the terrorist Baruch Goldstein [who killed 29 and injured 125 Muslim worshippers in the Cave of the Patriarchs massacre in 1994], I thought I can't stay silent. It's one of these moments in history when you have to stand up and say that things have gone far enough. I had to raise a black flag."
She says that the following day the campaign already spread to real life, with black flags flying in many schools, accompanied by the hashtag "Kahanism not in our school – united against racism."
"It's a protest of parents who rise up to defend their children, and it spreads." she explains. "On Friday, when that alarming interview came out, where the minister of Education presented a holistic world view which shows clearly how racism, Kahanism, homophobia and the desire to annex territory without affording civil rights to its residents come together – it reignited the protest, and school principals, heads of regional councils and educators joined us."
Yakira says it was an organic, grassroots campaign which was carried by its own momentum, without an organizing body. "I guess the pressure from the street, joined by the LGBTQ organizations, did the work. It caught on like wildfire and created a tidal wave that echoed in the public."
As she sees the protest expanding, Yakira is hopeful: "It's clear that the next Minister of Education couldn't be someone holding such views," she says, implying the coming elections in March. "The minister trusted with the education of our children must aim at the values of democracy, equality, tolerance, love and acceptance of all people."
The poet Ilan Shainfeld from Tel Aviv, a proud father to twins in the second grade, also looks forward to the coming elections. "I think that after being thrown from one election to the other and being repeatedly attacked by the Minister of Education, people understand how important it is to harness the immense power the community has – as we see now- to the political sphere. If, god forbid, the next government would still be right-wing, we're going to have a Kahanist right which will cause immense damages to our community and children."
Shainfeld sees the protest and can't stay indifferent. "I think the protest in the education system is amazing, and what's happening at the municipal level is amazing – but if it doesn't come with political action it's not enough. If I have to convert my children, who were born through surrogacy, to Judaism, and if I have to wait before bringing more children to the world because eight years later I'm still paying for the surrogacy – then there are still goals to fight for, and we should do it on the constitutional level."